Cultural transformation of an enterprise
Exxon Mobil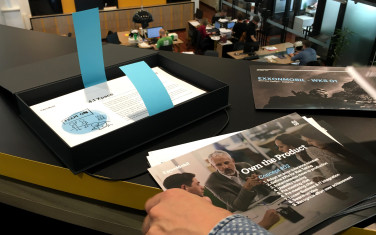 Cultural transformation of an enterprise
Exxon Mobil
In an increasingly dynamic world, where transformations are happening more frequently and faster than ever, companies that aren't alert to the changes around them inevitably end up being overshadowed by their competitors. And not just in the market itself. When a company's internal culture, processes and the working environment remains unreviewed or improved on a regular basis, it's only a matter of time before its brightest talents are either headhunted or decide to leave for more rewarding possibilities elsewhere.
Caring about the working environment
ExxonMobil – who have more than 70,000 employees all over the world – is a company that not only strives to continually stay ahead of its competitors but is also concerned with offering the best working environment and career opportunities for its employees.
Focusing on employees
With that in mind, ExxonMobil's office in Curitiba, Brazil, invited EGGS to help start a process of internal cultural transformation. Collaborating throughout the entire duration of the project and facilitating workshops with managers from different departments within the company, everything was centred around the employees. As a result, the following topics were addressed:
Place of work: points for improvement and the formatting of a space for the development of experimental projects
Processes and functions: how to create bridges between different departments, improve internal processes and make it easier for employees to communicate
Rating criteria: establish a fairer evaluation system that rewards collaborative attitudes and encourages greater employee progress
Further improvements worldwide
The outcome was a report containing more than 30 insights and has led to an ongoing initiative to further improve the internal culture of ExxonMobil. Because of the project's success, many of the concepts designed for the Brazilian office are now being considered for the company's other international divisions.
Do you feel the need to transform your business from the inside out, and dare to innovate to stay ahead of the pack? Then call us.
Learn more about our approach
Have a chat with our
Creative Leader — Mauricio Medeiros
Related case-studies