User-centric mediation services
Mediation Service by Bufdir
User-centric mediation services
Mediation Service by Bufdir
Mediation Service is a statutory public service in Norway for parents with children under 16, who are going through a break up. The service was established to ensure that the needs of the children were met during and after a divorce. Bufdir, The Norwegian Directorate for Children, Youth and Family Affairs, offers the service through its 49 regional family counselling centres through out Norway.
What is mediation?
The service helps parents make visitation agreements and find a common agreement on other matters concerning the children, always with the children's best interest in mind. The mediation is free of charge and is usually takes place at a family counselling centres, where both parents participate.
Creating an improved holistic service
The aim of the service is to help parents agree on the best possible arrangements for childcare, custody and visitation by designing an end solution based on the needs of the children. On account of earlier surveys regarding family counselling, Bufdir wanted to pursue opportunities for innovation and improvement. Findings concluded that there were geographical and professional differences among Norwegian mediation services, and that family counselling tasks had increased in complexity as a result of more diverse user groups. Therefore, the intention was to create an improved, user centric and holistic mediation service to the best of the children's interest.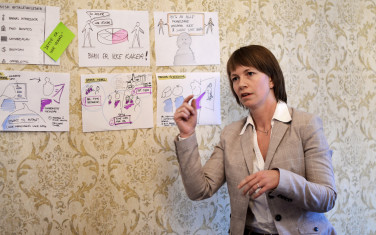 Upgrading by applying service design methods
This included increasing the expertise and competency about service design within Bufdir by highlighting how the methods can contribute as tools to upgrade Bufdir's services. We conducted a series of interviews with parents and children throughout the various stages of mediation, interviews with family counselling mediators, observation of parental mediation, and other miscellaneous sources. This proved to be highly informative in terms of having empathy and a profound understanding of users needs, and their experiences of mediation services. Most importantly we learned that different parents have different needs, we therefore strived to design a service that caters for every individual case.
Within a couple of weeks, EGGS were at the core of what mediation is all about and what is important for the children and their parents. This is a field of expertise that psychologists and therapists work with through-out a life time and which EGGS just grasped the essence of."

Wenche Mobråten, Director, Bufdir
Allowing for all kinds of situations
The creative process led to a more comprehensive concept for the future of mediation services. The basis for the new concept was to differentiate and offer a customised mediation service. This is illustrated by an overall concept with three different scenarios. Scenario A is straight forward mediation for parents with levels of conflict, and where the couples manage to communicate to find a solution. Scenario B is for more complex situations, where the level of conflict is higher or the parents have some unresolved issues, making collaboration more challenging. In Scenario C the conflict has escalated deadlock, making communication difficult and where the divorce case is being considered to be dealt with in the courts.
I am truly satisfied with the results and the process has been very inspiring."

Wenche Mobråten, Director, Bufdir
Further improving for the future
In the wake of this pilot service design project, 3 development projects have been initiated. Summed up, these 3 development projects combined is the new mediation service. The new mediation service offers parents the option of going online at home to start the process of finding an agreement as well as to help get information when preparing for any upcoming family counselling.
All projects have been supported at a top level in Bufdir and are part of a major on-going digitalisation plan for the directorate. The entire process is a co–creation between the directorate, mediators, child welfare officers, staff and end-users. This has led to a changing of mind-sets and what best to focus on for the users, as well as a redirection of human resources to those who need them the most.
A short film about the service design project
This film is made by the Norwegian Center for Design and Architecture. It is in Norwegian.
This film is about the pilot service design project for the Mediation Service (2013). Different users from the different aspects of the value chain were involved creating new insights that contributed to improving user experiences, efficient use of resources and creating a more rational mediation service. Service industries account for almost 80% of employment in Norway.
Learn more about our approach
Have a chat with our
Regional Director Oslo — Marte Grevsgard
Related case-studies